Background Information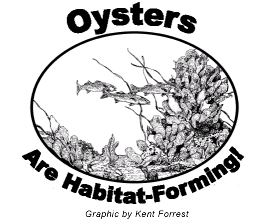 The purpose of the SCORE program is to restore and enhance oyster habitat by planting recycled oyster shells in the intertidal environment to form new, self-sustaining oyster reefs - all with the help of volunteers. This community-based habitat restoration project is an important endeavor because oysters play a significant ecologic and economic role in South Carolina; however, oyster populations are declining. It is important for the community to understand how oysters improve water quality, control erosion, and provide habitat for other commercially-important shellfish and fish species by learning about their biology and the human activities that can influence their well being.
Oyster Biology covers the distribution, habitat, and life cycle of oysters and the ecology of oyster reefs.
Restoration and Enhancement describes human and environmental factors that stress oyster populations, as well as what humans can to do to restore and enhance these populations.
FAQs answer frequently asked questions about oyster restoration and enhancement activities.

Coming Soon! Volunteer Manual is a volunteer guide specifically developed for SCORE. This manual has a lot of background information on oysters as well as detailed information for volunteers and reference materials. The manual is updated approximately annually so check back occasionally to see if you have the latest version.