Volunteer Opportunities
Click here to go directly to the calendar of current opportunities.
Volunteer Involvement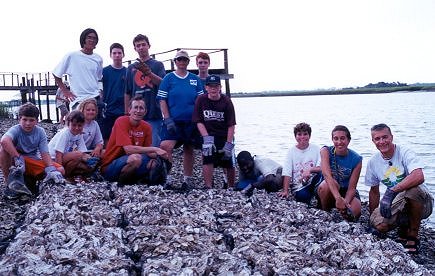 We are a community-based oyster restoration program, and that means we depend on volunteers like you to help us restore oyster reefs! We are one of the only programs in South Carolina restoring oyster reefs strictly for the ecological benefits they provide. By partnering with the community the SCORE program can restore valuable habitat while also educating people on the ecolocial importance of oyster reefs and the habitat that oysters create. When people are well informed and personally invested in a resource, they are better stewards. Working with the SCORE program gives volunteers the opprotunity to give back to the environment in a hands-on way, learn new skills, and meet other like-minded volunteers.
The SCORE program provides a myriad of different volunteer opprotunities. From one time events like "reef builds" to long-term water quality monitoring near our sites. The most committed individuals may want to consider volunteering as a local project coordinator for a specific region or reef site. The following links provide more information on volunteer activities associated with the SCORE program and how you can get involved. Also check our calendar of upcoming volunteer opportunities.
Building Oyster Habitats involves three main steps: selecting an appropriate site for reef-building, bagging shell, and building reefs. These our most popular events for individuals and volunteer groups. In the fall and winter volunteers can create our oyster bags. These bags are the building blocks of our reefs. In the summer, after a site is selected and approved by SC-DNR, volunteers assist us in moving the bags onto a shoreline using a bucket-brigade technique.
Monitoring volunteers visit reef sites to make observations and perform a variety of tests, including assessments of water quality parameters, bank erosion, recruitment success, and oyster survival and growth.
Outreach and Education volunteers distribute literature, give presentations to local community groups and schools, involve the town and county councils, or assist with school field trips to restored reefs.
Oyster Shell Recycling volunteers educate and inform the public about the importance of recycling oyster shell and encourage the public to recycle their shell, work with restaurants and caterers to find ways to make recycling shell on a large scale easier, and help SCDNR staff with the management of recycled shell.
For more information on volunteering for the SCORE program, contact us at score@dnr.sc.gov or call (843) 953-9057.