Community Outreach & Education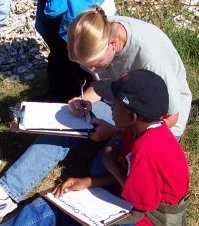 The long-term success of this community-based restoration project depends on public involvement. South Carolina Department of Natural Resources (SCDNR) staff have made numerous presentations to civic clubs, environmental groups, and school classes. The SCORE project has also been highlighted in magazine and newspaper articles, as well as local newsletters. Press coverage of the SCORE program can be accessed from our Web site.
However, there is a need for more public awareness activities than the staff can accommodate. Interested citizens can assist SCDNR in educating others about the importance of oyster habitat by distributing literature, talking to friends and neighbors, and giving talks or programs at local meetings (for example, fishing and civic clubs). SCDNR will provide all the materials and information. A brochure describing this project is also available on-line for printing and distribution to interested parties.
Finally, there is a need for volunteers to assist in conducting school field trips to the restoration reefs. For more information on volunteering for public outreach and education, please call (843) 953-9842 or e-mail the SCORE team at SCDNR.