Oyster Shell Recycling
Why Recycle Oyster Shells?
Oysters are more than a seafood delicacy! They help the environment in the following ways:
Filtering (adult oysters filter up to 2.5 gallons of water per hour, improving water quality in the process)
Providing habitat (oysters build reefs, which provide habitat for fish, shrimp, crabs, and other animals)
Controlling erosion (oyster reefs are natural breakwaters that protect shorelines).
Adult oysters release millions of fertilized eggs in the summer months. During their 2 to 3 weeks of development, larvae (young, free-swimming oysters) may be carried great distances from where they were released. When development is complete, young oysters must attach to a hard substrate, ideally another oyster shell. If no suitable substrate exists, the oyster dies. Juvenile oysters (known as "spat") require several years to reach harvest size, but they begin to reproduce within a year, completing the life cycle.
Harvesting adult oysters interrupts this cycle by removing shell from the system. Replanting oyster shell is an important way of ensuring that suitable habitat is available for future generations of oysters. Complete the cycle by recycling!
How Can You Help?
South Carolina has a critical shortage of oyster shell. To properly manage the state's oyster beds and maintain these important oyster habitats, citizens and businesses must continually recycle the oyster shell that is removed from the state's oyster beds. You can help restore, preserve, and enhance South Carolina's oyster habitats by recycling shell!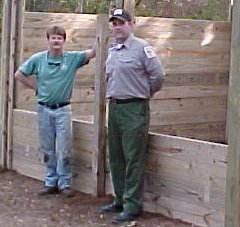 The South Carolina Department of Natural Resources (SCDNR) has organized a statewide oyster shell recycling program. You can drop off your oyster shells at one of several shell recycling centers located along the South Carolina coast, or a pickup service may be available for large quantities of shell.
For more information on oyster shell recycling or to locate an oyster recycling center near you, visit SCDNR's Saltwater Recreational Fishing License Program Web page or contact:
Ben Dyar
Shell Recycling Coordinator
SCDNR
(843) 953-9397
dyarb@dnr.sc.gov
Some of our volunteers have even started their own shell recycling programs. The Environmental Action Volunteers, led by Sun City residents Bruce White and John Kreuzer, has recycled and bagged approximately 1,000 bushels of oyster shell from Hilton Head, SC, restaurants each year since 2001! These shell bags have been used to construct oyster reefs at numerous locations in Beaufort County. To learn more about the efforts of Bruce White and Environmental Action Volunteers, read some of the local press coverage.
Recycling Tips
DO separate shell from trash. Shell mixed with trash is not suitable for recycling. Provide separate containers for shell.

DO keep shell in a porous container to reduce odors.

DO bring your shell to the nearest shell recycling center.

DO NOT put live oysters in South Carolina waters. If the oysters you purchased were harvested outside of South Carolina, it is illegal to place them in South Carolina waters. Placing imported oysters in our waters can create public health problems and may harm local oysters or other animals.

DO NOT put freshly shucked shell in South Carolina waters. To avoid contamination, shell should be dried for 6 months.