Monitoring Restoration Success
Citizens, school and youth groups, and other interested parties are invited to assist South Carolina Department of Natural Resources (SCDNR) staff in ongoing monitoring efforts at our oyster restoration sites. These monitoring efforts will allow us to measure our restoration success and to determine factors that affect restoration success. There are several levels of involvement in which volunteers may choose to participate.
One-time Assessments
Seasonal or Biannual Assessments
Flow rates
Boat wakes
Collection of water samples for laboratory analysis at SCDNR
Measurement of hatchery-reared juveniles deployed at selected sites
Biweekly or Monthly Assessments
Water quality (for example, salinity, temperature, pH, water clarity)
General reef observations (for example, siltation, bag condition)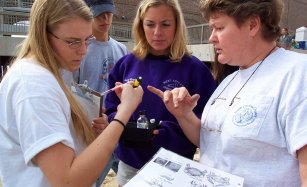 Groups wishing to participate in monitoring should contact SCDNR for additional details by filling out the volunteer form or by contacting the SCORE staff. All volunteers will be trained and supplied with appropriate equipment and permits allowing them to access the reefs for monitoring purposes, and will be able to enter the data they collect on-line. To view the data collected to date at any of our reef sites, visit the Monitoring Data section of our Web site.
School groups interested in participating can read about monitoring-related educational activities that other teachers are implementing in their classrooms.